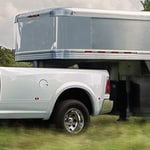 Made for heavy duty hauling, the Ram 3500 relies on its durability aspects to prove to consumers that it is up for any job. Combining towing capabilities that are comparable to those of a semi-truck, the Ram 3500 goes above and beyond to show buyers what it is capable of. Achieving these high-capacity goals is one thing, but maintaining this functionality routinely is another objective that must be met.
In continuance of its heavy-duty capacity, the Ram 3500 relies on a variety of engine options in its powertrain lineup to fulfill the claims it promotes to consumers. With a standard 6.4-liter gasoline engine, many buyers are perfectly happy with the capability of this entry-level engine option. Yet, those who need a bit more can also invest in the 400-horsepower diesel engine.
Built for towing, the design structure of the Ram 3500 plays a large role in maintaining its maximum capacity and durability efforts. With a maximum payload rating of up to 2,380 pounds, this type of work is what the heavy-duty frame of the Ram 3500 was made for.