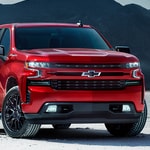 As one of the most advanced and equipped trucks ever produced, the Chevrolet Silverado 1500 does not disappoint in its array of standard technology features. While several in-cabin tech enhancements make a big impact in this pickup truck, most of the attention is drawn towards this vehicle's promotion of trailering safety.
An in-vehicle trailering app allows users to set up and save regular trailer profiles that will monitor tire pressure, trailer lighting diagnostics, and pre-departure checklist reminders. Trailering technology is also present throughout the vehicle. Some of the features that pertain to this functionality include Trailer Sway Control, Auto Grade Braking, and Trailer Theft Alert. The myChevrolet Mobile App also helps drivers stay in control of their towing experience.
Yet, the safety enhancements do not end there. Relying on multiple camera views to promote driver awareness, the Chevrolet Silverado 1500 provides up to 15 different camera views. From navigating the road ahead to parking safely, these camera views make it easier to detect hazards and promote avoidance.