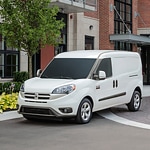 For those who love driving a Ram ProMaster City, you will experience power in every turn. The car is very efficient and boasts of a front-wheel configuration that includes an efficient 2.4-liter engine. The vehicle can keep your business on the road.

It would help if you always got ready for many efficiencies when you get the 2021 Ram ProMaster City. The 2.4L efficient and powerful Tigershark engine has also been designed with a9-speed automation.

The car's front wheel configuration of the Ram ProMaster City gives the van fewer mechanical parts than the rear-wheel-drive car. All of these usually translates to low maintenance costs of the vehicle.

The car's capability has always amazed many people because it can carry up to a maximum of 1,900 pounds. The vehicle has been engineered to perform better in every job. It is, therefore, easier to enjoy a comfortable ride when you go for the latest Ram ProMaster City.