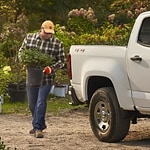 The Colorado remains a popular midsize pickup among Tazewell, VA owners who prefer a smaller truck that is easier to handle while still being capable of providing a smooth ride and power performance. The Colorado is available with a crew or extended cab combined with a short or long truck bed.
The exterior comes in a choice of seven different body colors. The trucks on display at our Ramey Chevrolet Chrysler Jeep Dodge RAM Tazewell facility have sharply angled, rectangular-like headlights that flank the upper region of the three-dimensional meshed grille. A horizontal bar bisects the grille and bears the Chevrolet name. The angled bumper and grille borders are matte black. The front-end also boasts two tow hooks. The hood has sharp lines and a matte black scoop.
The sides of the pickup have flared wheel wells. A sculpted line travels from the midline of the front cab doors to the truck bed. Black matte cladding encases the lower body on all sides.